| | |
| --- | --- |
| Nama Tempatan: | Lengkuas Ranting |
| Nama Saintifik: |  Alpinia conchigera |
| Nama Lain: | Lengkuas Ranting, Lengkuas Kechil, Lengkuas Padang, Lengkuas padang, Jerunang, Rumput Kelemoyang |
| Famili: |  Zingiberaceae |
| Asal: | |
Description
Alpinia conchigera is a monocotyledon herb of the Zingiberaceae family. The stems are slender measures 1.4m high and tufted. The leaves are oblong in shape, glabrous except the edges, measures 15-25cm long and stalked. The panicles meausres about 30cm long and shortly branched. The flowers are white in colour, measures 1-1.5cm long; lip concave and round in shape, yellowish or pinkish white with red streaks, inside. The fruits are rounded, measures 1.5cm across, bright red when ripe.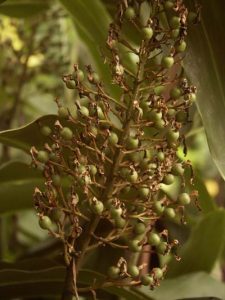 Plant Part Used
Rhizome
Chemical Constituents
1,7-diphenyl-3,5-heptanedione; 1,8-cineole;, 2′,4′-dihydroxy-6′-methoxychalcone, b-bisabolene; b-caryophyllene; β-elemene; β-pinene; β-sesquiphellandrene; b-sitosterol; alpinetin; cardamomin; chalconaringenin 2_-O-methyl ether; chavicol; naringenin 5-O-methyl ether; stigmasterol [1]
Traditional Used:
The rhizome is used to flavour dishes prepared by inhabitants of Southeast Asia, as a substitute to Alpinia galanga. The young shoots is eaten as "ulam" dipped in "sambal belachan".
Powdered rhizome steeped in boiling water is applied over the abdomen to help relieve stomachache. [1] In Bangladesh the juice of the rhizome is a remedy for dysentery and to allay abdominal pains. The same juice is used to treat stomach upset and gastric pains. [2] The rhizome is also used in the treatment of jaundice. [3] The Myanmar traditional medicine practitioners use the rhizome to treat digestive problems. [4]
Pounded rhizome is massaged onto joints and limbs to relieve inflammation and rheumatism/arthritis/ostealgia. [1] [3]
The rhizome is used to regulate uterine bleeding and is being given in cases of metritis. The pounded leaves is applied over the abdomen to aid the involution of the uterus after delivery. [1]
The rhizome is considered a diaphoretic and is used in steam bath to treat fever by inducing sweating. It is also an ingredient of pot herb used in the treatment of bronchitis. The rhizome is also used to treat headache, vertigo and parasitic infestation of the scalp (fleas). [1] In Myanmar the traditional medicine practitioners make use of the rhizome to treat Gout. [4] A. conchigera is also advocated for the treatment of diabetes by the Thais. [5]
Pharmacology
Gastroprotective activity
The rhizome of A. conchigera is often used in traditional Malay cuisine as a flavouring codiment. It would be interesting to note that the extract of this rhizome does have effects on the gastric mucosa. Yutana Pongpiriyadacha et.al looked into the gastroprotective properties of methanolic extract of the rhizome of A. conchigera and found that the methanolic extract of the rhizome was able to protect the gastric mucosa against the assult of ethanol, 0.6M HCl, and indomethacin (p<0.01) with ED50 values of 2.7, 9.8, and 16.5mg/kg taken orally (p.o) respectively. This is comparable to the effects of omeprazole (2.5 – 100 mg/kg p.o.). [6]
In another study they subsequently found that the methanolic extract of A. conchigera prevents gastric mucosal injury induced by these necrotizing agents, by mechanisms that involve endogenous prostaglandins and sulfhydryl compounds. [7]
Antinociceptive and anti-inflammatory activity
One of the traditional uses of the rhizome of A. conchigera is to relieve pain and swelling following injuries and inflammatory conditions whether infective or otherwise. Sulaiman et.al recently studied the antinociceptive and anti-inflammatory effects of the ethanol extract of the leaves of A. conchigera. They noted that the extract showed inhibitory activity in all test models (acetic acid-induced abdominal writhing test, the hot plate test and the formalin test for antinociceptive effects; and carrageenan-induced paw edema test for its anti-inflammatory effects). The findings corroborate the traditional uses. [8]
Isolation of cardamomin, a chalcone analog, from A. conchigera was found to significantly inhibit the induced expresssion of NF-kappa B reporter gene by LPS or tumour necrosis factor (TNF)-alpha in a dose dependent manner. LPS-induced production of TNF-alpha and NO as well as expression of inducible nitric-oxide synthase and cyclooxygenase-2 was also significantly suppressed by the treatment of cardamomin in RAW264.7 cells. However, this compound did not inhibit LPS-induced activation of extracellular signal-regulated kinase and stress-activated protein kinase/c-Jun NH(2)-terminal kinase, but significantly impaired activation of p38 mitogen-activated protein kinase. It is also demonstrated that pretreatment of cardamomin rescued C57BL/6 mice from LPS-induced mortality in conjunction with decreased serum level of TNF-alpha. [9]
Sumber : http://www.globinmed.com/