Nama Tempatan:    Gorek
Nama Saintifik:   Caesalpinia Bonduc (L.) Roxb.
Nama Lain:        gray nicker, Nicker tree, putikaranja (sanskrit) , akitmakit (arab)
Famili:           Caesalpiniaceae
Lokasi Dijumpai:  Kelantan
Asal:             Tumbuhan tempatan
---
KETERANGAN:
Gorek merupakan sejenis pokok yang merayap (vine) . Ia biasanya ditanam di kampung sebagai tumbuhan pagaran. Ia boleh tumbuh sehingga panjangnya lebih kurang 10 meter. Daunnya dari jenis bipinat.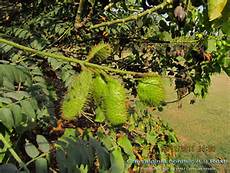 KEGUNAAN:
Air rebusan bijinya boleh digunakan untuk merawat darah tinggi, kencing manis . Tumbuhan ini juga digunakan untuk merawat malaria.
Kalumbibit / Caesalpinia bonducella / Physic nut / Hua nan yun shi: Philippine Medicinal Herbs / StuartXchange
Botany

Kalumbibit is a prickly shrub or woody vine reaching a length of 10 meters or more. Leaves are bipinnate, often nearly 1 meter long, with the rachis armed with stout, sharp, recurved spines. Pinnae usually number about 10 pairs and are about 20 centimeters long with a pair of short, sharp spines at the point of attachment of each pair of leaflets. Leaflets also number about 10 pairs and are oblong, 2 to 5 centimeters long and somewhat hairy. Flowers are yellow, borne in axillary, simple or panicled racemes and about 1 centimeter long. Calyx is deeply cleft, the disk basal, the lobes imbricate, the lowest one larger than the others. Petals spreading, usually clawed, the uppermost smaller than the others. Stamens, 10, free, declinate, anthers versatile. Ovary few-ovuled. Fruits are pods, oblong 5 to 7 centimeters in length, inflated and covered with slender spines and contain one or two seeds. The seeds are large, somewhat rounded or ovoid, hairy, grey and shiny.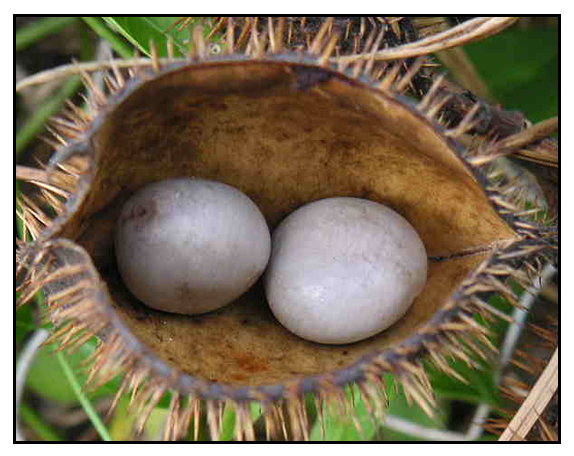 Distribution
– In thickets along and near the seashore throughout the Philippines.
– Pantropic.Constituents
– Seeds yield a bitter, resinous principle, named bonducin.
– Fatty oil yields glycerides of palmitic, stearic, lignoceric, oleic, and linoleic acids, two phytosterols and a hydrocarbon similar to heptacosane.
– Study isolated four known cassane-type diterpenes and three new norcassane-type diterpenes.
– Phytochemical studies of seeds have revealed alkaloids, flavonoids, glycosides, saponins, tannins and triterpenoids.
– Study yielded ten new furanocassane-type diterpenes, caesalpinins H-P (1-9) and norcaesalpinin F (10) from seed kernels, together with 13 known diterpenes. (16)
– Various seed extracts yielded bioactive molecules including oils, sterols, saponins, alkaloids, glycosides, phenols, tannins, flavonoids, and resins. (see study below) (32)
Properties
– Bitter tasting, cooling.
– Considered anticontusion, analgesic, antipyretic, antidiarrheal, antidote, antinociceptive, anxiolytic, diuretic, anthelmintic, and tonic.
– Leaves are deobstruent and emmenagogue.
– Bark considered rubefacient.
– Seeds considered tonic, febrifuge, purgative.
Parts utilized
Leaves, seeds, root and bark.

Uses
Folkloric
· In the the Philippines, seeds used for stomach troubles and as a mild purgative. Powdered seeds used as febrifuge and regarded as tonic.
· Acute and chronic gastritis, gastric ulcer, carbuncle, furuncle.
· Pounded fresh material may be applied as poultice on carbuncle and furuncle.
· Leaves and seeds used as external applications for dispersing inflammatory swelling.
· Bark and leaves used as anthelmintic, febrifuge and emmenagogue.
· Tender leaves used for disorders of the liver.
· Ointment made from seeds, mixed with castor oil, used as external application to hydrocoeles, acute orchitis and glandular swellings.
· Oil expressed from seeds used for convulsions, palsy, and a variety of nervous complaints; also, used as embrocation in rheumatism.
· Seeds, roasted and powdered, internally administered for hydrocoele and leprosy.
· Fixed oil from the seeds used as emollient and as embrocation to remove freckles, and to stop ear discharges.
· Decoction of roasted seeds used for consumption and asthma.
· In Ayurveda, sprouts and root bark used to treat tumors. The juice of leaves for elephantiasis, worms. Paste of leaves used for pain and edema. Internally, used for abdominal pain, diarrhea, dysentery and colitis.
· In Assam, seeds are used in the treatment of diabetes.
· In Malaya, young leaves used for intermittent fevers and as vermifuge.
· In Indo-China, leaves used as deobstruent and emmenagogue.
· In traditional Indian medicine, used as antipyretic, antiperiodic, anticonvulsant and antiparalytic.
· In some part of Vidharbha region, seed kernels used as crude learning and memory enhancer.
· In French Guiana root decoction used as febrifuge. Roots also used for gonorrhea.
· In South Africa seeds used for treatment of diarrhea; leaf infusion used for cerebral hemorrhage and infantile convulsions. Pounded leaves are used as vesicant.
· In Ceylon young leaves applied to toothaches; also used for worms in children.
· Decoction of leaves used as gargle for sore throat.
· Bonducin, as a pill, used in the treatment of malaria.
Studies
• Antimalarial: Study isolated 44 casssane- and norcassane-type diterpenes. Most of the tested diterpenes showed antimalarial activity; norcaesalpinin E showed the most potent activity, more than the drug chloroquine. (1)
• Antimalarial: In a study of six plants used in traditional medicine for malaria, C. bonducella and Cassia abbreviata leaf ethanol extracts were the most promising for further studies. (12)
• Antioxidant: Study showed the methanolic extract of C crista has potent antioxidant activity and ROS scavenging activity as well as iron chelating property.
• Radical Scavenging Activity: Ethyl acetate extract showed a maximum of 49% free radical scavenging activity at the end of 1 hr. Although it may help in diabetes-linked oxidative stress, it does not necessarily contribute to its hypoglycemic activity.
• Antidiabetic / Hypoglycemic: Study showed the seed kernel of Caesalpinia bonducella has significant antidiabetic and hypoglycemic effects. Activity may be partly due to a positive effect on glycogen synthesis in the liver, skeletal muscle and heart muscle due to an insulin-like action of its constituents and partly due to stimulatory action on insulin release. (3)
• Antidiabetic / Seed Extracts: Study of ethanolic and aqueous extracts showed significant blood sugar lowering effect of C. bonducella in the type 2 diabetic model. (7)
• Oral Antidiabetic Activity / Seed Extracts: Study of aqueous extract of C. bonducella seed shell showed very significant blood sugar lowering in glucose loaded, STZ and alloxan diabetic models. (4)
• Antidiabetic: Study in STZ-induced diabetic rats showed blood sugar lowering attributed to increase of insulin release from the pancreatic cells.
• Antifilarial: Study showed the C. bonducella seed kernel extract and fractions showed microfilaricidal, macrofilaricidal and female-sterilizing efficacy against L. sigmodontin and microfilaricidal and female-sterilizing efficacy against B. malayi in animal models, suggesting a potential for its use in new antifilarial drug development. (5)
• Anxiolytic Activity: Study of seed extract of C. bonducella showed a significant and dose-dependent anxiolytic activity. (6)
• Antitumor / Antioxidant Activity: Study of methanol extract of C. bonducella showed significant antitumor and antioxidant activity in Ehrlich ascites carcinoma (EAC)-bearing mice. (8)
• Analgesic Activity: Study of flower extract of C. bonducella showed significant antinociceptive effect in the inflammatory phase of formalin-induced pain and acetic-induced parietal pain. (10)
• Analgesic / Antipyretic / Anti-Inflammatory: Study showed the seed oil of C. bonducella could be a potential source of an anti-inflammatory, antipyretic and analgesic agent. (11)
• Immunomodulatory: Study of the aqueous extract of C. bonducella seeds on cell mediated and humoral components of the immune system in rats produced an increase in hemagglutinating antibody titer and a change in delayed-type hypersensitivity suggesting that the extract could be a promising immunostimulatory agent. (13)
• Anti-Amyloidogenic / Alzheimer's Disease: Abeta (amyloid beta) is a major etiological factor in Alzheimer's disease. Study showed C. crista aqueous extract could inhibit the Abeta(42) aggregation from monomers and oligomers and able to disintegrate the preformed fibrils.
• Nootropic / Memory Enhancer: Study evaluated the potential of dried seed kernels of C. crista extract as a learning and memory enhancer. Results suggest CC can be beneficial in improving cognition in disorders like demential and other neurodegenerative disorders.
• Antipyretic / Analgesic / Seed Kernel: Ethanolic extract of seed kernel of C. bonducella was tested for antipyretic and antinociceptive activities in adult albino rats or mice. Results showed significant central analgesic activity and marked peripheral analgesic effect. (17)
• Genotoxicity Amelioration:Alcoholic extracts significantly reduced chromosomal aberration due to methyl methane sulfonate. There was also reduction of chromatid exchanges, enhancement of replication index. The extracts also reduced the number of aberrant cells and frequency of aberrations per cell in vivo. The ameliorating potential was dose and duration dependent. (18)
• Anthelmintic: Various extracts of leaves of C. bonducella were investigated for anthelmintic activity against Perionyx excavates and Amplostoma caninum. All four hexane extractives showed significant death time and paralysis time. (19)
• Female Reproductive System Effects / Antifertility Efficacy: Study evaluated an ethanolic seed extract on the reproductive system in Wistar female albino rats. There was significant dose-dependent decrease in the principal hormones viz. LH, FSH, estradiol, and progesterone. Results showed estrogen antagonistic effects mediated through a direct effect on the reproductive organs possibly by suppression of follicular growth in the ovary and/or disruption of hormonal balance in the hypothalamo-hypophysial ovarian and uterine axis. (20)
• Anti-Convulsive: A petroleum ether extract showed anticonvulsant activity attributed to the presence of phytoconstituents such as saponins, proteins, homoisoflavone (bonducillin), carbohydrates and sterols. (21)
• Sperm Effect: Study of graded doses of alcoholic seed extract of C. bonducella showed morphological changes in the sperm of albino rats. The effect can be due to general disturbances in proteins and alteration in the cauda epididymal milieu, probably due to androgen deficiency secondary to C. bonducella treatment. (22)
• Hypoglycemic / Antidiabetic / Seeds: Study evaluated seed extracts for antidiabetic effect in Wistar albino male rats. Results showed reduction of blood glucose, improvement in body weight, and rejuvenation of damaged pancreas, comparing favorably with reference drug, glibenclamide. (24)
• Antioxidant: Study of ethanol and methanol leaf extracts of C. bonduc showed antioxidant activity using DPPH, FRAP, superoxide radical scavenging, NO, and hydrogen peroxide scavenging assays. Its antioxidant activity may also contribute to the cytotoxic nature of the plant. (25)
• Diuretic / Seeds: Study evaluated the aqueous and methanol extracts of dried seeds for diuretic effect. Results showed significant increase in urine volume, with increased excretion of sodium and potassium.(26)
• Antiplasmodial / Twigs and Leaves: Ethyl acetate and petroleum ether extracts of C. bonduc showed moderate antiplasmodial activity with IC50 values of 16 and 18 µg/mL. (27)
• Hepatoprotective / Nephroprotective / Gentamicin Induced Toxicity: Study evaluated the protective effect of methanolic extract of leaves on gentamicin-induced hepatotoxicity and nephrotoxicity in rats. Results showed pretreatment significantly attenuated the physiological and histopathological alterations induced by gentamicin. (28)
• Hepatoprotective / Paracetamol Induced Toxicity: Study evaluated the hepatoprotective effect of aqueous ethanolic leaf extract of C. bonduc against paracetamol induced hepatic damage in albino rats. Results showed a hepatoprotective effect which may be due to normalization of impaired membrane function activity. C. bonduc may act as a free radical scavenger of radicals involved in paracetamol metabolism by microsomal enzymes. (29)
• Immunostimulating / Gluco-Arabinan / Seeds: A water-soluble gluco-arabinan (PS-II) was isolated from alkaline extract of seeds of Caesalpinia bonduc. Comparison studies of immunostimulating properties between gluco-arabinan (PS-II) and arabinan (PS-I) were carried out. (30)
• Acute and Subacute Toxicity Studies / Leaves: Acute and subacute toxicity studies on ethyl acetate extract of leaves showed no toxicity at 250 mg/kbw to Swiss albino mice on behavioral, hematological, histopathological and biochemical studies. However, there was a slight change in cellular architecture in liver histology. (31)
• Antifungal / Seeds: Study of ethyl acetate and aqueous extracts of C. bonducella seeds exhibited high to moderate antifungal effect against Aspergillus niger, Candida albicans, Fusarium oxysporum and Alternaria solani. (32)
• Antipsoriatic / Leaves: Study evaluated C. bonduc decoction and hydroalcoholic extract for antipsoriatic activity. Of the samples tested, only the water fraction of hydroalcoholic extract showed good activity in the mouse tail test, antiproliferant activity in HaCaT cells and lipoxygenase inhibition assay. Results support the traditional use of CB leaves for psoriasis treatment. (33)
• Anti-Ulcer / Leaves: Study of C. bonducella leaves showed significant anti-ulcer activity against aspirin plus pylorus ligation induced gastric ulcer, water immersion stress induced ulcer, and HCl-Ethanol induced ulcer models in rats and mice. (34)
• Antidiarrheal / Antibacterial / Cytotoxic / Leaves: Study of C. bonducella ethyl acetate fraction of leaves showed significant dose dependent antidiarrheal properties, moderate cytotoxicity in the brine shrimp bioassay compared to standard drug vincristine sulfate. A chloroform fraction showed maximum activity against almost all tested bacteria, especially Staphylococcus aureus and Pseudomonas aeruginosa. (35)
Availability
Wild-crafted.